Advertising Rates
Advertising in this section  is available to both Members and Non-Members of the club. Ads will run for for 2 editions of TRaction and online for 3 months, unless advised of earlier sale or completion.
This service is free to Members, subject to it being used for casual transactions – otherwise a "commercial" rate will be established
Non Members fees: $20.00 to be listed in Traction for 2 editions, $40.00 to be listed in Traction for 2 editions and Online for 3 months.
Click on the Button Below to place your advertisment.
For Sale
Triumph Stag Items
Genuine repair and operation manual, unmarked and original condition, $80.
Replacement s/steel tail pipes, small bore Rimmer Bros part GEX1433SS, never used, $100.
Original tool kit, used – open to offers. Vic Custom plates "STAG-77" – open to offers.
Contact: John Triffle
Phone: 0424626441
For Sale
California TR 6
Triumph TR6 1970 Ex California car. By the paperwork was imported to Australia in 1989 and stayed with this same gentleman till he became incapacitated. He converted to RHD and Changed colour from Primrose to Blue. Was registered and driven in Victoria and was also on club plates from what I was told. I bought it as a barn find. Starts runs drives stops. I have put about 4k into this car with a new poly front end, ball joints, tie rods, gaiters etc. Also new blue carpet and interior bits I found that were new old stock from Adelaide. I've lost interest in the current economic climate. Great car to restore properly. I was going to drive as a ratrod style car as is. Cheapest TR6 in Australia. $16000. ONO.
Contact: Michael Minz
Phone: 0418320823
For Sale
Moto-Lita Sports Steering Wheel.
14″ Sports Steering Wheel – Moto Lita import from UK for Triumph TR4/5 etc. Vehicle was sold prior to the arrival of the unit so its never been fitted to a car. Save yourself the import time and trouble. $250 in the original box. can be viewed at Hallam, Vic
Contact: Graeme Bird
Phone: 03 8752 9125
For Sale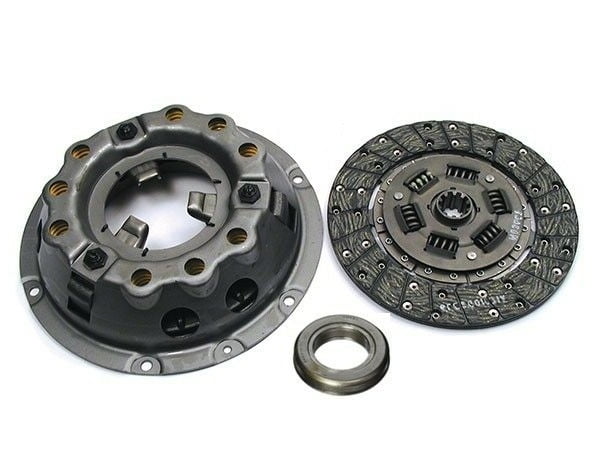 TR4 Clutch Full Kit. (Pressure plate, Clutch plate & Bearing). New!
Unused. Not even fitted. Supplied in error. (I have a 4A!). Still in box. $150.
Aftermarket type. Cost about $250 plus plus. I can supply further info if needed.
Contact:  Andrew
Phone: 0411 332 247
For Sale
Attention All Spitfire Owners Past & Present
A Brief History Of The Triumph Spitfire here in Melbourne.
Now available on CD – includes 240 pages of text and photographs.
The purchase price is $20 per CD ($10 to cover my costs and $10 donation to TSOA Vic Inc
CD updates will be Free Of Charge
Please Do Not Copy, or upload the content to internet this will breach Copyright Law.
Wanted to Buy
Parts for 1980 TR8
TR8 Boot cardboard trim, LH door light assembly, LH Tail Lamp Lens, 2 speed wiper motor.
Contact: Bernard Bisseling
Phone: 0408 050 625